IRON ORES MINES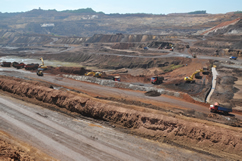 INTRODUCTION
Pissurlem Mine is a Cluster of four leases with a lease area of approximately 250 Hectares or 2.5 million sq.metres and is the main working area of the Group of Companies.
Adjoining the above leases is Gomantak Investments Pvt. Ltd. lease with an area of 29.87 Ha.
EXPLORATION
The exploration has been carried out in about 60% of the area of Cluster leases. The area has been punctured and explored with 319 boreholes with a meterage of more than 17,600 metres.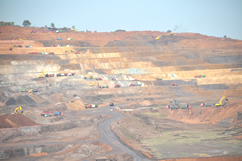 LOCAL GEOLOGY
Ferrogeneous laterite of recent origin covers almost the entire area below which four different primarily hematite bodies have been found to exist. These deposits are locally known as Bombay, Calcutta, Delhi and Siliceous ore and cross section reserves are attached of each ore body. The later two have been partially found to be magnetic and studies/tests are going on. Top Bombay, middle Calcutta, Delhi and bottom mostly Siliceous ore bodies are separated by magniferous clay. These four ore bodies are different in both physical and chemical characteristics and are unique to be all located in one area. This facilitates combination of various blends of ore to meet changing stringent demands of the Buyer.

All the ore bodies have Low Phosphorous content at 0.04% and Low sulphur content at 0.015%.
ORIGIN
The iron ore deposit is formed by the residual concentration of banded hematite quartzite of pre-cambrian formation. The predominant ore is Hematite. The predominant gangue being Silica, Alumna & Manganese.