OUR COMPANY - THE BEGINNING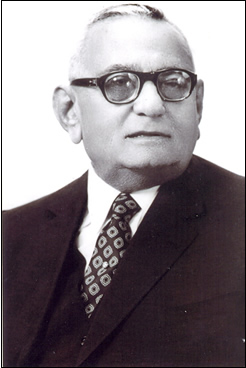 Our Founder Late Shri Damodar Juthalal
17th Dec. 1896 – 6th Dec. 1972

Shri Damodar Juthalal left for Mozambique, Africa from his native Gujarat, as a young entrepreneur and he established a career in trading of copra, cashew, and import of textile.
Goa being the only sea entry route to India in those days, he arrived in 1943 at Goa en route to get his daughter Jaya married. Having brought with him tea of a high quality, which was not easily available in Goa, he made a good profit in the sale of that commodity and was thus encouraged to spread his entrepreneurship to Goa, besides his interests in oil mills in Gujarat.
He returned to Goa and set up his family company – Damodar Mangalji & Cia Ltd and started trading in various commodities in Goa. When Iron Ore deposits were discovered in Goa, Mr. Damodar being already well established here, ventured into Iron Ore Mining and exports from 1948. He started exporting to Europe and after the closure of the Suez Canal, he established a strong supply contract with Nippon Steel mill in Japan. In 1944, Damodar Mangalji e Companhia Limitada was founded by late Shri Damodar Juthalal in Goa under the Portuguese regime and thereby a modest beginning was made. Earlier to this period, business of trading was done in Mozambique, what was then Portuguese East Africa. He left his family and the people of Goa, a legacy to benefit from, for the future generations to come.
MAKING STRIDES
The Company ventured into mining business for extraction and export of mineral ores, lumps and fines. Also an Agency business dealing in shipping and forwarding was established. After the liberation of Goa from the Portuguese, the Company was incorporated as a private limited Company in 1965 under the provisions of the Indian Companies Act and is now known as Damodar Mangalji & Company Limited and popularly known as "DMC". Mr. Dhirajlal Damodar, elder son of late Shri Damodar Juthalal is now Chairman of the Company.
THE BREAKTHROUGH
During the period before liberation of Goa from the Portuguese, DMC acquired around 30 Mining Concessions which are now continued as Mining Leases under the Indian Mines Act. With these mining leases, the Company concentrated its activities principally in mining business and was one of the premier business houses involved in this line of activity. Naturally, with the backing of mining leases, the future of the Company for mining activities is fully assured in the decades to come.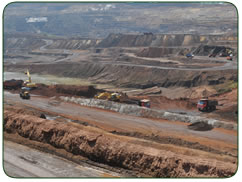 MINING
To systematically extract, mobilise and ship for exporting this large volume, involves huge amounts of quantities of material handling of rejects and resultant Iron Ore. The Company has fully mechanized its operations with Ripper Dozers, Hydraulic Excavators, Wheel Loaders, Large Dumpers, a large fleet of trucks, 2 Nos. State-of -the-Art Beneficiation Plant, three nos dry processing plants and two Nos. twin Jetty Loading Points on the banks of River Mandovi to cater to large drafts, capable of loading 2300 tons capacity barges round the clock. This entire infrastructure is at our disposal and with 300 trained officers and personnel, DMC can confidently and timely meet the stringent demands of its International Buyers.
SHIPLOADING & TRANSHIPMENT
The Company does loading of vessels by use of Ship's gears or by hiring a Transhipper in case of gearless Vessels.The two jetties are capable of loading 25000MT per day whereby 3 handymax geared vessels can be loaded together if need be, to effectively export plus 2 million MT per annum.